Learning how to wax a car with a buffer can drastically speed up how long it takes for you to wax your car unless you prefer the old school way of elbow grease waxing without it. Additionally, it will give your paint an added shine to make your car look amazing!
The following is a step by step process for beginners to wax a car with a buffer.
Get the Materials You Need
Prepare the Surface
Apply the Wax
Buff the Surface
Remove the Wax
Although the process can be intimidating, especially for beginners, it is easy to learn how to wax a car with a buffer. Read on to find out more!
How To Wax A Car With A Buffer
Waxing your car using a machine buffer is not a difficult process. It will actually save time compared to waxing by hand.
Before starting the process, you'll need to make sure you have the required materials and prepare the surface.
Get the Materials You Need
Machine Buffer/Polisher. If you don't have one yet, check out our buying guide here.

Finishing Pad

.

You'll attach this to the machine polisher to apply the wax; be sure to buy a size that fits.
Liquid Wax. You can also consider spray wax and paste wax
Prepare the Surface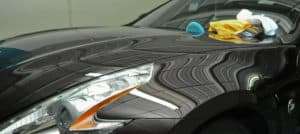 To ensure the surface is ready to be waxed, use clean water to rinse your car thoroughly. You should also consider removing embedded dirt using a clay bar.
You should wax your car in the shade or in a garage. This will help you avoid direct sunlight, which can dry your wax too quickly.
Be sure to double-check that the surface is clean, as the remaining dirt could cause scratches. Use a soft cloth when removing any common dirt like bird droppings so as not to damage your car surface.
The next step will be an application of a high quality car wax or paint sealant.
Apply the Wax
Before applying the wax, do note there are a few types of wax in the market: liquid wax, spray wax and paste wax.
The easiest to apply option is the liquid version, while even though the paste wax application is harder and takes more time, it has a longer lasting outcome compared to the other 2 options.
Whichever option you choose, you will need to pick a foam finishing pad to apply wax. The pad should be absorbent and soft, yet firm enough to handle the power buffer pressure.
Begin by attaching the applicator pad to the machine buffer. Squeeze several dots of liquid wax onto the buffer pad in a circle, then put a large dot in the middle.
Next, apply the wax lightly onto several spots on the paint surface you are working on while the machine buffer is turned off. This will spread it around the surface, preparing it to be buffed.
Buff the Surface
Turn on the machine buffer and wax the section using light pressure in long, straight, sweeping strokes.
Quickly pass over the section two or three times but make sure there is enough wax on the surface to avoid damage.
Additionally, avoid using too much pressure because you don't want to damage the paint. The goal is to apply an even, thin coat of wax.
The purpose of the wax is to provide sealed protection against light scratches or water spots.
Remove the Wax
When the wax has dried (check your wax product for more information), use a clean microfiber cloth to remove it from the surface. Use soapy water if needed.
Helpful Tips:
Use straight lines when wiping away wax to avoid scratching.
Use one clean microfiber towel for removing most of the wax, then another for cleaning off any remaining wax.
The wax should be at a thin layer where you can still see the car paint color
What's the Best Car Wax Buffer?
Choosing the best car waxing buffer can be difficult. With so many different brands and price-points, you want to make sure you choose the right one.
The best car waxing buffer is the Porter Cable 7424XP Polisher, and here's why:
The 7424XP Polisher is a "dual-action orbital polisher." This means it works by moving in 2 different motions simultaneously. This movement makes it very easy to wax and improve any minor scratches or swirl marks, especially for beginners. It's pretty difficult to make a mistake!
Additionally, the Porter Cable 7427XP is an affordable car buffer used and trusted by many car enthusiasts, and the brand is a leading producer of top-of-the-line power tools.
Read more about dual-action polishers and the other types of machine buffers below.
Different Types of Machine Buffers
There are two main types of machine buffers/polishers: Dual-Action Orbital Polishers and Variable-Speed Rotary Polishers.
Both of these tools have advantages and disadvantages, along with different skill levels needed to operate them.
The sections below explain the different types of machine polishers, their uses, and my recommendations.
Dual-Action Orbital Polisher
A dual-action orbital polisher works by spinning and oscillating quickly in two different ways, making it a great, easy-to-use option for beginners.
It is ideal for waxing, as it is easy to control and difficult to damage the paint.
For a dual-action orbital buffer, I recommend the Porter Cable 7424XP Polisher. It is a trusted machine polisher used by many auto detailing enthusiasts.
Note that it does not include a backing plate for the polishing pads, so you must purchase one separately.
Variable-Speed Rotary Polisher
A variable-speed rotary polisher is similar to an orbital polisher, but it spins normally in one direction. It is not recommended for beginners, as it is much easier to cause damage to the paint.
It is ideal for removing heavy scratches, swirl marks, and other heavy damage. Although it can be used to fix light damage, it is easy to apply too much pressure and damage the paint.
Again, this is not recommended for beginners and is not ideal for waxing.
If you still want a rotary buffer/polisher, I recommend the DeWalt DWP849X Polisher. DeWalt is a trusted brand and this polisher offers many options. It is for people serious about auto detailing and paint correction.
Regardless of whether you are choosing a dual-action or rotary buffer, do note that the greater the car buffer's speed, the better it will be at targeting any deep scratches.
Best Wax to Use with a Machine Buffer
The easiest way to apply wax using a machine buffer or polisher is by using a liquid wax. Liquid wax is easy to apply to the applicator pad and will make it easy to spread a thin, even coat across the surface of your car.
Although you may use whatever liquid wax you prefer, Meguiar's makes a great liquid wax which is commonly used with machine polishers.
What are the Benefits of Waxing a Car?
There are many benefits to waxing your car frequently. Waxing not only effects the appearance of your car, but can also prevent your car's paint from becoming damaged, which could cost you money in the future.
I've listed a few of the main benefits of waxing your car, but you can view the full list in the article: 11 Benefits of Waxing Your Car
Protects Against Sun Damage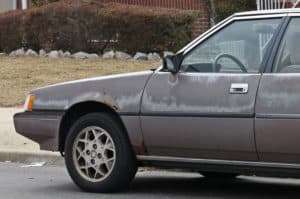 One of the biggest benefits of waxing your car is the protection against sun damage.
You often see older cars with flaking and faded paint. This is usually due to the clear coat layer becoming damaged by ultraviolet rays from the sun.
This can be prevented by keeping your car's surface wax, as it will prevent damage against UV rays.
This will keep your paint in great condition for years, which will have a positive impact on the value of your car and help you avoid costly repairs in the future.

Makes Your Car Look Shiny
It is commonly understood by most people that waxing your car will give an increased shine and make your paint look amazing.
Natural oils in the wax help add shine to the paint, giving it a fantastic, new appearance.
It also fills in imperfections in your paint, leaving a more uniform and glass-like look to your car.
Shields Dirt from Your Paint
Waxing your car helps prevent dirt from sticking to your car's paint by creating a smooth, uniform surface.
It fills in imperfections and rough surfaces on your paint, making it more difficult for dirt to grab onto the surface.
It also helps prevent dirt from becoming embedded in your paint, which will need to be removed using a clay bar system.
Recommended Article:  11 Benefits of Waxing Your Car
Things to Remember
Buy proper, quality materials
Fully clean your car before waxing
Work in the shade or inside a garage
Use multiple microfiber towels to avoid leaving wax residue behind
A dual-action orbital polisher is best for beginners and is ideal for waxing
It's important to wax your car frequently to keep it in great shape
Check out the list of recommended products that kept my car squeaky clean and shiny.