Last Updated on September 27, 2023 by Chase Manhattan
When it comes to keeping your car looking new, it's important to pay attention to the parts of your vehicle that don't always get the attention they deserve. As part of your regular car maintenance routine, you should invest some time and effort into cleaning your car's undercarriage. An undercarriage cleaning spray and pressure washer are two essential tools for effectively removing dirt and grime from your car's underside, and keeping it looking like new. Read on to find out how to use these tools to keep your car or truck in top condition.
What Is The Best Undercarriage Cleaner
The best undercarriage cleaning product can be determined by its use case, the water pressure (PSI) or power that it's able to produce, and its price. Additionally, there are degreaser-type sprays that can serve as maintenance products in lieu of a full cleaning. For your convenience, I've added my personal favorites into the table below but I'll also go into more detail below as well.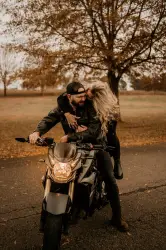 Latest posts by Chase Manhattan
(see all)
What is an Undercarriage Cleaner?
An undercarriage cleaner, or water broom, is a cleaning tool specifically designed to clean the underside of vehicles. It is usually a hand-held spray gun or pressure washer attachment that connects to a pressurized water source, such as a pressure washer. This type of cleaner is the most effective way to get rid of oil, grime, stubborn dirt, and other contaminants that can accumulate in the hard to reach areas on the vehicle's underside. It can be difficult to access these hard to reach places under your vehicle, so these types of products become the perfect tool for the job.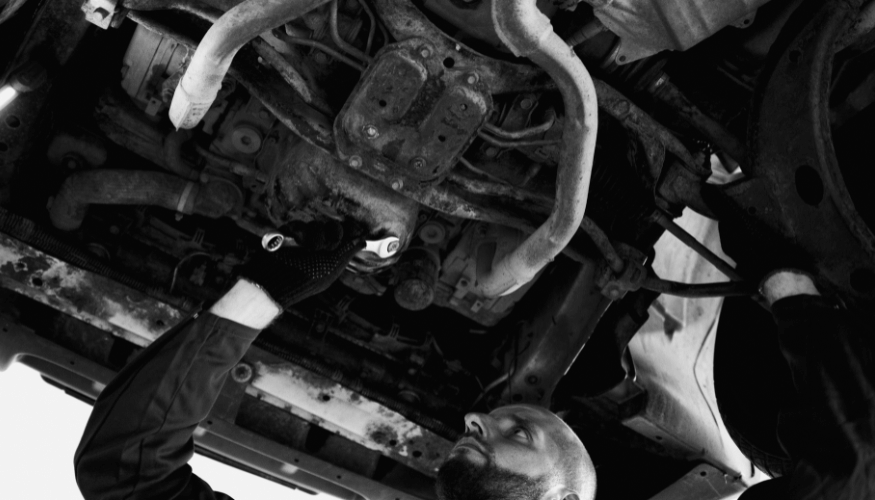 [Product Reviews: Turtle Wax: Wax and Dry]
WARMQ 2-in-1 Water Broom Undercarriage Cleaner
My personal favorite product, which I consider to be the best option, is the 2-in-1 Water Broom Pressure Washer from WARMQ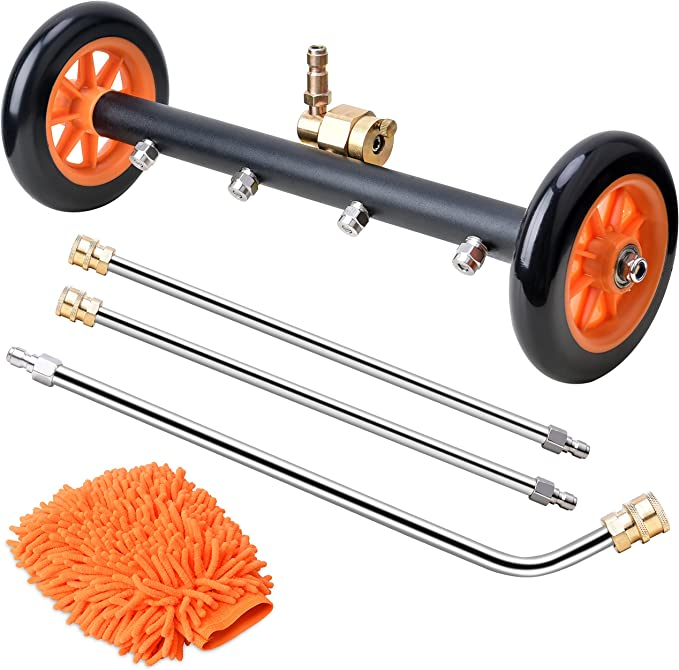 This undercarriage cleaning unit is capable of withstanding 4000 PSI of water pressure while still maintaining a reasonable price of $58.99 when not on sale. It comes with three quick release wand attachments that fit directly to a pressure washer nozzle; they will give you an easy reach once installed, due to the 40 degree bend in the first attachment. With these items, it's the perfect purchase for cleaning commercial size vehicles such as SUVs or trucks, but is versatile enough to clean something like a golf cart or personal trailers. With the higher levels of PSI it can produce, it is the answer you need to remove fuel contaminants, stuck sand, and oil from your undercarriage.
[Washing the Undercarriage of A Car: Dummy's Guide]
MINGLE Pressure Washer Undercarriage Cleaner
The M Mingle Pressure Washer Undercarriage Car Wash Cleaner is a great alternative to the WARMQ shown above.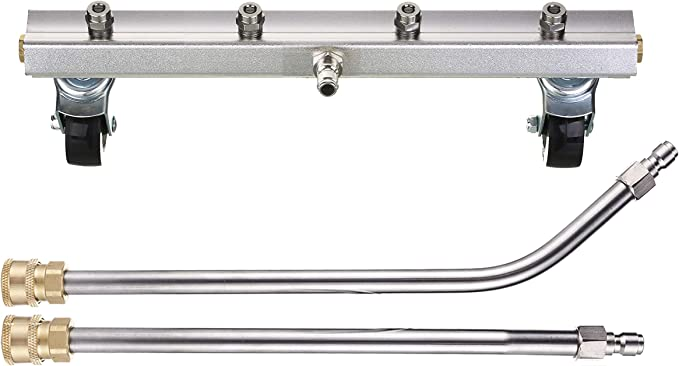 The Mingle undercarriage cleaner is very similar product to the WARMQ model. It comes with three nozzle attachments with quick connect/quick release tips, it is capable of PSI up to 4000 PSI so it will have plenty of power to give you the best results possible.
The difference here being that it has multi-directional cart wheels, whereas the WARMQ was uni-directional. This means that you will have easy access to any cars undercarriage whether it be SUVS or trucks.
POHIR Undercarriage Cleaner 24″ Water Broom
This 24″ undercarriage cleaner from POHIR is a great alternative for larger vehicles.
This hot product from POHIR is capable of withstanding the same PSI as our other options, so it will still provide plenty of power. It has the same quick connect/quick disconnect nozzle attachments as the other products, but it has a 24″ surface area so it is a surface cleaner that is ideal for larger vehicles like a truck.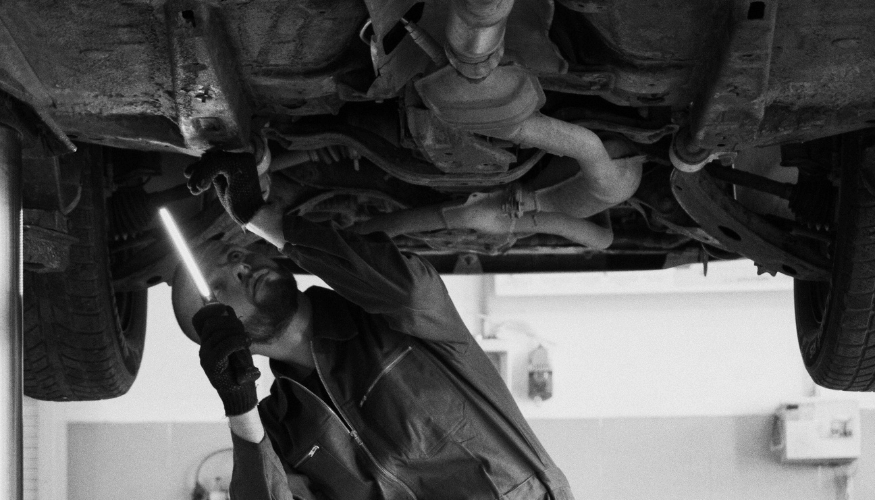 Washing The Undercarriage of A Car The Easy Way
Using an undercarriage pressure washer with a degreaser is a simple process, and one that doesn't require any special tools or skills. Follow the steps below to effectively clean your car's undercarriage:
[Everying To Know About Pressure Washing Your Car]
Step 1: Park Your Car on an Even Surface
Before you begin using the undercarriage pressure washer and degreaser, it's important to make sure your car is parked on a level surface. This will help ensure that you get an even clean and avoid any damage to the underside of your vehicle.
Step 2: Connect the Undercarriage Cleaner to a Garden Hose or Pressure Washer
Next, attach the pressure washer gun to your water source. This will allow you to get a more powerful clean and remove more of the oil and grime that accumulates on the underside of your car.
Step 3: Begin Cleaning the Undercarriage
Once the undercarriage car wash cleaner is connected, it's time to start cleaning the undercarriage. Start by spraying the undercarriage cleaner in short bursts and make sure to get into all of the nooks and crannies. This will help ensure that you achieve superior cleaning performance and remove as much dirt, oil, and grime as possible.
For extra cleaning power, I recommend using a dedicated degreaser product like the Chemical Guys Signature Series Orange Degreaser

Step 4: Rinse the Undercarriage Cleaner with a Pressure Washer
After you've finished cleaning the undercarriage, it's time to rinse it off with a pressure washer gun. This will help ensure that all of the dirt and grime is removed from the surface, and that your car looks like new.
Step 5: Apply An Undercarriage Dressing Product
To really get the results that you're looking for, you will need to apply a product like Chemical Guys Undercarriage Dressing

This is as professional grade product that is designed to add a protective layer to your undercarriage. It will prevent oil, fuel contaminants, sand, and other debris from accumulating on your undercarriage. Since it is a dressing, it is ok to use in hot temperatures – even in the middle of August summer heat.
[Suggested Article: How To Clean an O2 Sensor]
FAQs
What is the best way to clean my car's undercarriage?
The best way to clean your car's undercarriage is with an undercarriage cleaner and a pressure washer. This is in order to prevent any damaging build up on the undercarriage.