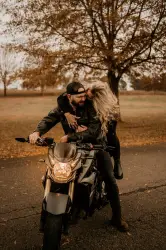 Latest posts by Chase Manhattan
(see all)
What Does PPF Do For Cars?
PPF, also known as paint protection film, is a thin layer of protective coating that shields your car's paint from rock chips, uv exposure, chemical damage, tree sap, and bird droppings much like a vinyl wrap. It also reduces fading and tarnishing to the original paint of the car.
However, the protective benefits of paint protection film do not last forever and it will eventually need to be removed. This is the case if you keep your new car for long periods of time or if you lease it.
[Recommended Read: 6 Common Causes of Car Scratches]
What is PPF for Cars?
PPF stands for Paint Protection Film, and it is a protective film for your car's paint. It can be used to keep your car's paint looking good, and it can also increase its resale value if you ever decide to sell it.
Paint protection film is a thin, conformable and optically clear protective film, much like ceramic coatings, that can protect your vehicle's paint from rock chips, bug splatter, and scratches like swirl marks. It's also used to prevent acid rain, UV exposure and bird droppings from damaging your vehicle's finish.
Today's paint protection films are multi-layered and offer self-healing properties that reform after being scuffed or scratched. They are available in a variety of thicknesses, and some vendors even provide hydrophobic properties that repel water and dirt.
Many of the latest paint protection film products are made from urethane, which has a natural flexing quality that absorbs impact and spreads it out over a wider area. Moreover, modern paint protection films feature a 0.5-mil thick (0.013mm) top coat that seals and protects the urethane layer.
[How To Remove Scratches From Black Plastic Bumpers]
Another benefit of a high-quality paint protection film is that it's transparent, which means that it will instantly heal any minor scratches, dents, stone chips, or scratches on the film's surface. This makes paint protection film attractive option for customers who want to maintain the look of their vehicles without spending a lot on expensive detailing.
The best part about paint protection film is that it's easy to remove. It doesn't have to be reapplied to your vehicle, so it can be removed if you ever decide to sell it.
It's important to note that installing a paint protection film is not something you can do yourself, and you will need to hire a professional detailer to install ppf on your car. They will know how to get the best results, and they'll be able to ensure that your car's paint is protected from rock chips and other debris.
You should also note that installing a paint protection film isn't a cheap project. You'll need to pay for the materials and the time it takes to apply it to your car. Additionally, should you give it a shot yourself, you'll need to have a clean environment in which to work.
Paint protection film can be a great option for anyone who wants to keep their car looking good, but it's not always a good idea for everyone. It's not worth the investment for cars that are in rough condition, or if you want to sell them in the future.
Benefits of paint protection film
Paint protection film for cars offers superior protection for the car's paint from rock chips and other damage that may occur as a result of harsh weather conditions or road debris. It also helps prevent uv exposure, which can cause the paint to fade or become discolored.
The ppf film is made from a transparent layer of urethane plastic that's applied directly to the paint surface. It's flexible and conforms to the shape of the entire car's body. It can be cut and shaped to fit the specific areas of the vehicle, like the front bumper, hood, and side view mirrors.
Most car dealers offer this service, and it's often available for new cars as well. It can be a worthwhile investment for drivers who want to keep their car's paint looking shiny and new.
[Pros and Cons of Paint Protection Film]
In addition to protecting your car's paint, paint protection film can also help boost its resale value when you decide to sell it. People will be willing to pay more for a vehicle that's been protected from rocks, dents, and other types of damage.
It can also help prevent rust. Sand and salt that's used to remove ice and snow from the roads can corrode your car's paint and metal parts.
The chemicals used to remove these substances from the ground are also responsible for acid rain, which can cause stains on the car's exterior. This can be prevented by removing sand and salt from your car's paint before driving it.
Finally, paint protection films can also help protect your car's paint from chemical damage, including bird droppings and tree sap. This can cause stains that could be difficult to remove from the paint.
If you're looking for a way to protect your car from scratches and other damage, paint protection film is the best option. It's easy to apply, and can save you a lot of time and money over the lifetime of your car. It's especially useful for luxury vehicles, as it helps ensure that the paint stays pristine and glossy.
How to install paint protection film
Paint protection film is a great way to protect the paint on your car from damage and maintain its shine. Whether you are looking to increase your car's resale value or simply want to keep it in top condition, installing ppf is a smart move.
When you decide to install a paint protection film, there are a few things you need to know about the process. This will ensure you get the best results.
Firstly, the paint on your car needs to be cleaned thoroughly before the installation begins. This is to ensure that the film will stick properly and not scratch the paint. The cleaning process should also remove any residual polishing oils and dust that have accumulated on the car's exterior.
[How To Get Pollen Off Your Car]
After this, it is time to start the installation. Generally, the process will take one to two days depending on the size of the body panels and vehicle. It can be a bit longer if the car is extensive and has many panels to be covered.
The technician will need to remove any old paint and apply a protective coating to the whole car. This will protect the vehicle from scratches and other damages because scratches occur occasionally during the ppf application. It can be applied to the entire body, including the windows, door handles, rocker panels, and mirrors.
Once the protective coating is applied, the paint protection film can be installed. During this process, the technician will need to ensure that they are using the correct adhesive to adhere the protective film to the car's surface.
It is a good idea to let the paint protection film ppf to dry for at least three days in the summer and seven days in the winter. This will allow the paint protection film to cure and make it easier to remove the film once the curing period is over.
If the installer isn't careful, he or she could accidentally cut the car's paint while applying the paint protection film. This is a common mistake made by amateurs and can lead to serious problems.
Paint Protection Film Cost
The cost of paint protection film for cars varies depending on the type of vehicle, its size, and its needs. It also depends on the amount of time it takes to install. Some shops may charge more for PPF installation if there are many panels to cover or if the car has sharp contours.
Choosing the best paint protection film is an important decision for your car. It will protect the paint from environmental pollutants, rock chips, and other damage that can cause the color of your car to fade or become worn. It is an investment in the future of your vehicle, and it will increase its resale value.
You should choose a shop that is experienced in putting paint protection films on a wide range of vehicles, from small sedans to trucks and SUVs. This will help you get the best results and lowest overall cost because applying ppf to a car properly requires knowing the procedure from experience.
Another factor that affects the cost of paint protection film is the condition of your car's paint. Having a clear paint job is critical to getting the best results with a PPF. If the paint is in poor shape, it will be harder for the PPF to bond to the painted surface, and protect it.
If you have a clear coat, the paint will not be as affected by rocks, dirt, and other environmental elements that can damage the paint. In addition, a good coat of paint protection film will protect your car paint from harmful chemicals, such as acid rain.
There are many different types of paint protection films on the market, and each has its own benefits. The material used to make the film also plays a role in its price. Some are self-healing, which helps prevent cracks from developing in the paint correction film.
When choosing a shop to install your paint protection film, it is important to look for one that has years of experience and specializes in paint protection or vinyl wraps. This will ensure that the best results are achieved and the highest quality materials are used.
It is also helpful to ask if the shop will provide any extra services, such as window tinting, when you decide to have paint protection film installed on your car. These services can increase the cost of a job, but they will also be worth the additional cost.
[Should You Use A Car Cover During Winter?]
Does Paint Protection Film Actually Work?
PPF works by creating a barrier between the car's paint and the outside world. It is made of a thermoplastic urethane material that is resistant to scratches, chips, and other types of damage. When applied correctly, PPF can provide excellent protection for a car's paint.
The benefits of PPF are numerous. It can help prevent damage from rocks, gravel, and other debris that can cause chips in the paint. It can also protect against scratches from keys, rings, and other objects that may come into contact with the car's surface. Additionally, PPF can help prevent damage from UV rays, which can cause fading and discoloration over time.
[How to Remove Mold from Car Window Seals]
Studies and tests have shown that PPF is effective at protecting a car's paint. In one study conducted by 3M, PPF was found to be effective at preventing damage from rocks and gravel at speeds up to 70 mph. Another study conducted by the University of Michigan found that PPF was effective at preventing damage from bird droppings and tree sap.
Is Paint Protection Film Worth it?
The cost of PPF installation can vary depending on the size of the car and the quality of the film used. On average, PPF installation can cost anywhere from $500 to $2,000 or more. While this may seem like a significant investment, the long-term savings from PPF can be substantial.
By protecting a car's paint from damage, PPF can help prevent costly repairs down the road. It can also help maintain the resale value of the car by keeping it looking new for longer. Ultimately, whether or not PPF is worth it depends on personal preference and priorities.
[Recommended Read: How To Clean Your Polishing Pads]
Can You Apply PPF To A Ceramic Coated Car?
Ceramic coating is a popular car protection method that involves applying a liquid polymer to a car's surface. It creates a protective layer that is resistant to scratches, UV damage, and other types of damage. Many car owners wonder if PPF can be applied to a ceramic coated car.
The good news is that PPF is compatible with ceramic coating. In fact, combining PPF and ceramic coating can provide even greater protection for a car's paint. The ceramic coating provides an additional layer of protection against scratches and UV damage, while the PPF provides protection against chips and other types of damage.
[Recommended Article: Guide To Removing Dog Hair From Your Headliner]