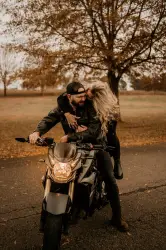 Latest posts by Chase Manhattan
(see all)
Last Updated on August 30, 2023 by Chase Manhattan
Speaking for myself, and anyone who has owned a car for a fair amount of time, your car's carpets take some serious abuse. Mine do, that's for sure. From commuting and eating in your car, transporting kids or friends, and everything in between, the carpet in your car is bound to develop grease stains, coffee stains, blood stains, and bad odors to boot.
Fortunately, you're here to learn from my trials and tribulations without the frustration of my own learning process because like removing car scratches, this process must be done correctly or you'll cause yourself further trouble down the line.
In this article, I'll show you how to clean a car's carpet to remove a lingering bad odor, general stains and more. I'll first cover my preferred method of doing so, while mentioning some alternative methods along the way. Afterward, I'll cover what it takes to clean heavily soiled carpets and how to do so without a machine. Let's get going!
You might need this first: Guide to Completely Clean your Car's Interior
How To Clean Car Carpet at Home
As I mentioned, we're going to focus on my preferred method of cleaning car carpets but I'm also going to provide some alternative methods along the way that include the use of homemade cleaners and other household products that you likely have already.
To follow along with this process, you will need some but not all of the items to follow.
Here are the items you will need to clean your car carpet at home:
paper towel roll
club soda
white vinegar
baking soda
vacuum cleaner
steam cleaner
scrub brush or brush attachment
your favorite essential oil
Keep in mind that light colored carpets may react differently to dark colored carpets when exposed to a cleaning solution, but these steps to come are safe in both cases. When using a dedicated carpet shampoo, you're free to use cold water or hot water, but I recommend only using hot water should you use an alternative.
Related article:How To Remove Mold from a Car's Interior
Keep reading: How to Remove Mold from Car Window Seals
---
[How to Remove Mold from Car Window Seals]
Prepare The Car
As with any job in the auto detailing world, preparation is the key to a satisfactory outcome. You'll first want to remove any debris, personal items, or other loose objects from the car as this will allow you to access tougher stains to easily achieve that deep clean we're looking for.
Remove The Floor Mats
You will want to remove the floor mats immediately to begin the carpet cleaning process. You want to ensure you have access to the entire carpet, and in extreme circumstances, you may have to remove the seats.
Vacuum The Entire Car
Vacuum the vehicle's carpet in its entirety. Be sure to pay extra attention to the small crevices in your car's interior as these locations are prone to house dirt that will show itself later on.
Apply Your Cleaning Solution
Now that your carpet has been vacuumed entirely, we are going to address the stains in your vehicle's carpeting. To do so, take your cleaning solution of choice, apply a healthy amount to the stained area, and let it sit for a few minutes. This period of sitting will allow the dirt to be drawn out from the carpet for easy removal.
I'll briefly cover the cleaning solutions that you have available to you. These will all work when following these steps exactly, and we'll later cover the role they play in cleaning badly soiled car carpets.
Baking Soda
Baking soda works best with warm water as it accelerates the chemical reaction that makes baking soda a potent cleaning solution. Instead of mixing it in a spray bottle, you can directly sprinkle baking soda onto the stained area then apply a warm water mixture and let it sit for a few minutes.
Dish Soap
Dish soap, in particular, is a potent option for cleaning car carpets as it was designed to remove grease stains, wax, and other materials from dirty dishes. If you opt to use dish soap, I recommend quickly following to the next step and agitating it for maximum cleaning power. However as a note, I do recommend only using a few drops should you choose this method.
Laundry Detergent
While car interior safe, laundry detergent is an unexpected option for most. I enjoy laundry detergent as a viable cleaning solution as it is gentle enough for most fabrics – including car carpet – while also having many smell good properties to eliminate any lingering bad odors. I recommend using this if you have a vacuum available as you will want to remove any lingering detergent that may stick to the car's interior.
Club Soda
Club soda is another readily available household product that can clean car carpet quickly and safely. The carbonic acid in club soda is good at breaking down dirt and tough stains, including grease stains, blood stains, and other ingrained dirt particles. In particular, club soda is a convenient option for spot cleaning instead of cleaning the entire carpet.
DIY Car Carpet Cleaner
As a DIY carpet cleaner, I prefer to use distilled white vinegar mixed with warm water in a spray bottle. This solution is a potent alternative to other products, while also allowing for flexibility of use since it will be in a conveniently designed bottle. This is recommend not only for car upholstery, but all car interior surfaces when used correctly.
Dedicated Carpet Shampoo
When possible, I recommend using dedicated carpet cleaning products as they are designed specifically for this purpose and will provide the most consistent results with the least amount of thought. Additionally, these carpet cleaning products tend to carry instructions on the bottle that will guide you in their best use practices.
Scrub Gently
This is one of the more important parts of the process, when you're brushing the stains you are both agitating the dirt for easy removal, but you are scrubbing the carpet cleaner into the stains for maximum cleaning power. For this part, I recommend using a damp cloth, a scrub brush, or a brush attachment for a drill. In a circular motion, scrub the cleaner into the stained area and let it sit for an additional 30 seconds to 1 minute. As a note, the circular motions are recommended as they provide the maximum coverage for treatment of the stains in the area. In other words, as you work around in circular motions you are attacking each side, and angle, of the stains.
Use a Steam Cleaner
While not initially available to most, for best results I recommend using a steam cleaner to remove the carpet cleaner after agitation. My personal preference is to use a steam cleaner designed for pet owners – to treat pet stains – as they typically carry a detergent tank, fresh water tank, and a waste tank for portability and ease of access in a car's interior. This is entirely optional as a steam cleaner can be a hefty investment. Otherwise, proceed to the last step of the process.
Dry the Car's Carpet
Now that we've effectively removed the dirt and tough stains from our car carpet, we must allow any excess moisture to dry or we run the risk of developing mold in our car interior. There are two ways to do this effectively.
Vacuum Dry
I highly recommend using a vacuum cleaner on each stained area as it will work to pull out any remaining dirt or left over cleaner. This method is preferred as it reduces the risk of any additional moisture setting the grounds for a mold infestation to begin inside your car's interior
Air Dry
An additional and equally viable option for drying your car carpets is to allow your car to air dry. This can be done briefly for a few hours, or you can dry your car overnight if you're in a safe area. In this case, I recommend using a few drops of your favorite essential oil or an air freshener to reduce the risk of a bad odor developing overnight.
Lastly, if you choose to air dry your car, I recommend using a few paper towels to blot dry the area. Use elbow grease as necessary as we will want to dry the car carpets as much as possible – if not completely dry.
[How To Wax a Car With a Buffer][Best WD40 Substitutes for Car Use]
---
Cleaning Products for Car Carpets
To keep it short and sweet, I will be including four essential kits/items that will allow you to efficiently complete this process leaving you with clean car carpet for the indefinite future to come.
In reference to a vacuum cleaner and steam cleaner, there are two options: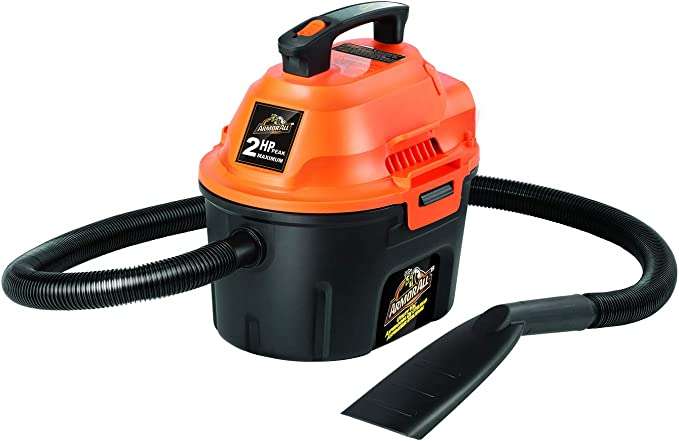 [How to Stop Rust Bubbles from Spreading on Your Car]
One option is a wet/dry vac that is great for everything aside from cleaning car carpet; whereas the other is a steam cleaning machine that will hold detergent and water separately. The latter is my personal preference.
Otherwise, two kits will give you essentially everything you need to clean your car carpets at home. One kit has a drill attachment, applicator bottle, and shampoo for car carpets, whereas the other has a car carpet cleaner in an applicator bottle with a manual scrub brush. Both alternatives fall directly in line with the instructions given here.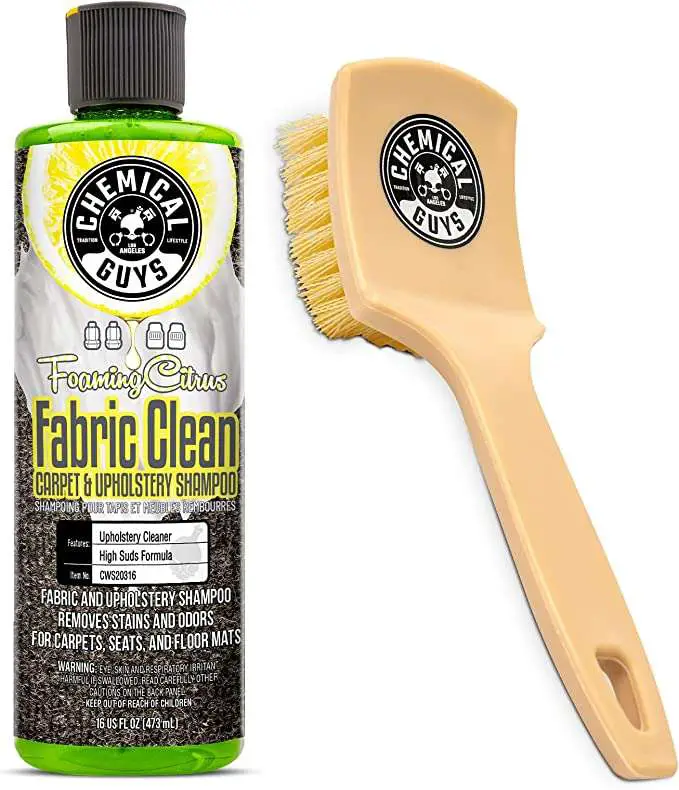 [Best Car Wash Soap Alternatives]
What Household Product Can I Use To Clean My Car Carpet?
Fortunately for us DIYers, there are many household alternatives to car carpet shampoos.
Here are some household items you can use to clean your car carpets:
white vinegar
baking soda
hydrogen peroxide
club soda
dish soap
laundry detergents
Some people will recommend using glass cleaner or paint thinner, but I do not recommend these for use in a car interior as they will technically work but have a larger margin for error.
[How to Make Homemade Car Wash Soap][Guide to Washing the Undercarriage of A Car]
---
How To Clean Car Carpet Without a Machine
Specifically, to clean car carpets without a machine you can follow the procedure above with a few exceptions.
Instead of using a steam cleaning product or other machines, use a damp cloth on the stained areas after the agitation step then use a paper towel to blot the area until it is dry completely. Air out your car overnight.
How To Clean Heavily Soiled Carpet
Soiled car carpet can be dealt with using the same procedure as above, but I will say that it is often necessary to re-apply your carpet cleaner and re-agitate the stained area many times until you can see your desired results. Evermore important in this case, be sure to remove any loose dirt in the interior first.
What's The Most Effective Method For Cleaning Badly Soiled Carpets?
While cleaning badly soiled car carpet is possible, it is one of the more involved and expensive tasks we cover here. For these scenarios specifically, I highly recommend you use the steam cleaning product shown above as it is designed for use against pet stains. Without following each step of the process, it injects the carpet cleaning shampoo directly into your car upholstery and then removes it all in one application.
How To Clean Car Carpet with Baking Soda
It's easy enough to use baking soda to clean car carpet. Follow the guide above up until the "Apply Cleaner" step, then sprinkle baking soda onto the stained area with an application of hot water to follow. Using a damp paper towel, brush the mixture into the area and rinse with cold water. Proceed with the guide after this point.
[How to Remove Scratches from Black Plastic Bumpers][Common Causes of Car Scratches That Piss You Off]
---
FAQs and Related Questions
How Much Vinegar Should Be in a Spray Bottle to Clean Car Carpet?
My recommend mixture is one to three parts vinegar and water. This mixture is strong enough to remove tough stains without leaving a lingering smell of vinegar.
How Do You Get The Smell Out of Car Carpet?
You can get the smell out of car carpet by leaving a few drops of essential oil in discreet areas, you can leave a scented diffuser or air freshener in the car, or you can leave a container with coffee beans in the cup holder.
How Do I Clean The Seats and Rugs in My Car?
You can clean car seats following the same procedure as above, or by using a predetermined kit to do so. I will say if you're cleaning car seats, you'll want to be sure that they are completely dry prior to your next use as any chemicals used during the process can agitate sensitive skin.
Can I Use Glass Cleaner To Clean a Car's Interior?
You can use glass cleaner to clean the interior of a car, but it is not my preferred method and is not covered in this guide. Otherwise, it is an effective method to remove fresh coffee stains and the like from car seats. To find out my preferred method, see above.
Will Hydrogen Peroxide Remove Stains from Car Carpet?
Hydrogen peroxide is great for removing tough stains from car carpets, but runs the risk of bleaching or damaging the upholstery if done incorrectly. However, it is a viable method to deep clean car carpet when a sanitization is necessary. Reference the guide above to see my preferred, safe, methods to clean car carpet.